Né le 4 avril 1988, Victor Gingembre est un sculpteur et architecte français. Connu pour ses oeuvres monumentales exposées à Paris, Londres, New York, Los Angeles et Milan ; Victor Gingembre sculpte depuis l'âge de six ans. Il commence par le modelage à l'atelier de Hans Marks. A huit ans, il découvre le marbre à l'atelier de Maurizio Toffoletti, qui l'accepte parmi ses élèves adultes.
Tous les étés depuis 2008, il taille le marbre entre la mer et la montagne, à Carrare, près de Florence. En Italie, il se lie d'amitié avec plusieurs sculpteurs dont Serena Tallarigo, Dominique Stroobant, Gigi Guadagnucci, Luigi Mainolfi, Michelangelo Pistoletto et Fernando Botero à Pietra Santa. Il imagine des volumes aux lignes infinies suggérant le corps féminin, avec tension, mouvement et sensualité.
Diplômé d'architecture à Paris Malaquais en 2012. Il rencontre Frank Gehry, Rem Koolhaas et travaille pour Christian de Portzamparc, Philippe Starck, Frédéric Borel et Richard Martinet. Cette formation d'Architecte influence son travail ; lors de son exposition place du Louvre en 2013, ses sculptures géantes deviennent spatiales invitant ainsi l'observateur à y prendre place.
En 2015, il sort diplômé de l'école Polytechnique de Milan après un master spécialisé dans les nouvelles technologies de découpe de la pierre. Il collabore avec des marbriers italiens, des mouleurs, des fondeurs, des ébénistes, développant une excellence dans les savoir-faire et une expertise dans la transformation des marbres.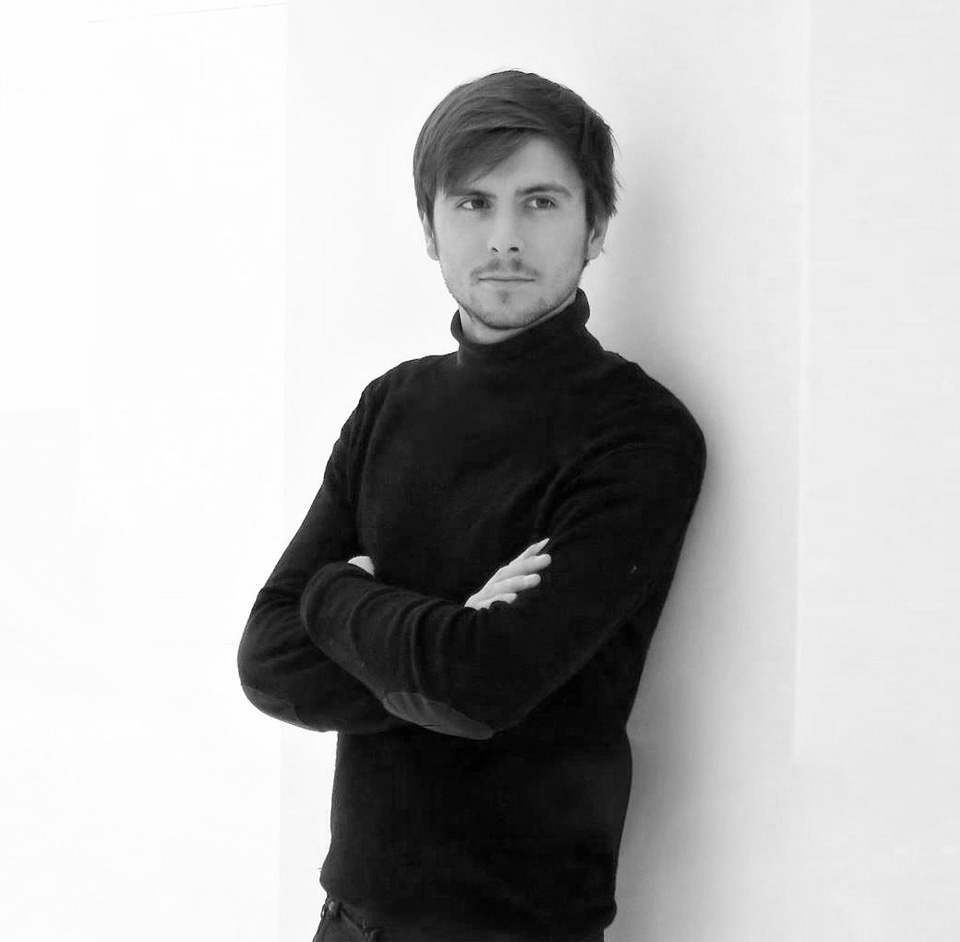 E. N.
Chronology
2017
Display of the Marble Clouds in the Natural Stone Show 2017 in London.
PAD (Pavillon Art et Design) in Paris with the Dutko Gallery.
2016
Acquisition of marble chairs by Eiffage Immobilier within the project : Esprit Joinville « un bâtiment, une oeuvre »
Exhibition of marble chairs in the Marais on 4 rue des Guillemites, Paris.
Production of black long chairs in the shape of a curled strand of movie film.
Display of marble chairs « Les Causeuses » in the Milano Furniture Fair, April 2016 on 177 corso Garibalidi, Fream Factory, Milano Brera district.
Artistic intervention project for the Molitor Hotel and Pool.
2015
Graduation from the Polytechnique University of Milan.
Master specialized in modern stone-carving technology « Progettazione contemporanea con la pietra ».
Project : stainless steel arch supporting prefabricated translucent marble panels, cut whit diamond wire
Collaboration with Francesco Messineo, President of Carrare port authorities VTP engineering for structural engineering.
Exhibition in London, 10 Hanover street and start of permanent collaboration with the Hus Gallery, 10 Hanover street, Mayfair, London.
Production of public marble benches Vincentina Marmi groupe in Vicenza.
1st Price, permanent installation on the city hall square of Chiampo, Italia.
2014
De Ré Gallery, Los Angeles – 8920 Melrose Avenue, Los Angeles, CA 90069, USA
Galerie de Souzy, Paris – Place Beauvau, 75008 Paris
Galerie Victor – 41 rue Vieille du Temple, Marais, Paris
Habilitation for the general contractor position, Richard Martinet Agency, selection and installation of Carrare marbles for the Crillon and Peninsula Hotel Suites in Paris.
Habilitation of the Hotel de Paris in Monaco.
2013
Exhibition « Anamorphose 2013 » – Place du Louvre, Paris.
2012
« Pieta » permanent installation, parc de St Dominique, Neuilly.
Spatial interpretation of the « Pieta », white marble, Michelangelo quarries, SGF studios, Carrare, Italy.
Architect, certified by the State, Paris.
Awarded by ENSAPM : Ecole Nationale Supérieure d'Architecture Paris Malaquais, site des Beaux Arts. Subject : «Raw Material ». History, geology and morphology of the Carrare marble quarries. Sensitization to the charm and fragility of the site. Development of a new formal language from the extraction of the material.
Personal exhibition at the Senate – 15 rue de Vaugirard, Paris.
Invited by the DFMA association, Droit et Fiscalité du Marché de l'Art (Law and Finance for the Art market).
2011
« Rêve d'Aphrodite » Galerie Victor – 43 rue Vieille du Temple, Paris.
Frederic Borel Architecture agency, Paris : Louis Vuitton project, Seoul.
« Evocation », collective exhibition, Galerie Aroa – 38 boulevard Inkermann, 92200 Neuilly.
« Digital knowledge », Architecture & Sculpture Parametric.
Research laboratory directed by Christian Girard.
2010
« Mouvement de l'âme », Carrare marble, 2m30, installation in Parc Massiani, Neuilly.
« Pont Erotique », collective exhibition, Galerie Bansard – 26 Avenue de la Bourdonnais, 75007 Paris.
Conception and creation of « Elamore », 1m80, withe marble, Carre, Italia.
2009
Philippe Starck agency, UBIK.
Meeting with Bernard Spain for NYC and Chicago
Erasmus : facoltà di architettura di Firenze, Florence, Italia.
2008
Christian de Portzamparc agency, Paris.
Creation of « Reve d'Aphrodite » white marble, Carrare.
2007
Introduction to the Boutros Romhein workshop in Carrare.
Initiation at l'ENSAPM : Ecole Nationale Supérieure d'Architecture des Beaux-Arts, Paris Malaquais.
2006
Ecole Supérieure d'art graphique et design
2005
High School Diploma : art option
2001
Arnaud Kasper workshop on marble sculpture.
1999
Anne and Just Jaeckin workshop
1998
First collective sculpteur exhibit, Neuilly Town Hall
Live modeling workshop with Hans Marks
1997
Initiation of Marble sculpture with Maurizio Toffoletti